The gaming world is constantly evolving, and with it comes a plethora of gaming laptops promising unparalleled performance. One such contender that has been making waves is the MSI Bravo 15. This gaming laptop is a powerhouse designed to cater to the needs of both casual gamers and enthusiasts alike. In this article, ozinsight will dive into the various features that make the MSI Bravo 15 a worthy companion for your gaming adventures.
Unveiling the Performance
At the heart of the MSI Bravo 15 lies the AMD Ryzen processor, a true juggernaut when it comes to processing power. This processor is specifically engineered for multitasking and gaming, ensuring that you can seamlessly switch between applications without any slowdown. Complementing the processor is the high-speed DDR4 RAM, which further enhances the laptop's multitasking capabilities. When it comes to graphics, the MSI Bravo 15 doesn't disappoint. Equipped with Radeon graphics, you can expect visuals that are nothing short of stunning.
Immersive Visuals
Gaming is not just about performance; it's about experiencing every detail. The Bravo 15 offers a high refresh rate display, which translates to smoother gameplay with reduced motion blur. The Full HD resolution and wide color gamut ensure that you don't miss any visual nuances. What's more, the laptop features AMD FreeSync technology, which eliminates screen tearing, delivering a visually immersive gaming experience.
Revolutionizing Gaming Experience
Strenuous gaming sessions can generate a lot of heat, which is why the Bravo 15 is equipped with Cooler Boost technology. This ensures that the laptop remains cool even during intense gameplay, preventing any performance throttling due to overheating. But gaming isn't just about what you see; it's also about what you hear. With Nahimic 3 audio enhancement, you'll be able to hear every footstep, explosion, and whisper with utmost clarity. And for those who like to personalize their gaming setup, the laptop comes with a gaming keyboard featuring customizable RGB lighting.
Optimized Connectivity
Modern gaming laptops need to offer more than just raw power. The Bravo 15 comes with a multitude of USB ports, allowing you to connect all your peripherals without compromise. The HDMI output is perfect for connecting to larger displays for a truly immersive gaming experience. Additionally, Wi-Fi 6 ensures high-speed wireless connectivity, while the Gigabit Ethernet port ensures minimal lag for online gaming.
Sleek Design and Build
Gaming laptops are no longer bulky monstrosities; they can be sleek and stylish. The Bravo 15 boasts a slim profile that you can carry with pride. Its modern aesthetics make it equally suitable for both gaming sessions and professional use. The laptop's build quality is top-notch, ensuring that it can withstand the rigors of travel and extended gaming sessions.
Software and Customization
MSI understands that gamers love to tweak and customize their systems. That's where the MSI Dragon Center comes in. This software allows you to optimize your laptop's performance, tailor it to your preferences, and even overclock it for those moments when you need that extra edge. This level of customization ensures that you get the most out of your gaming experience.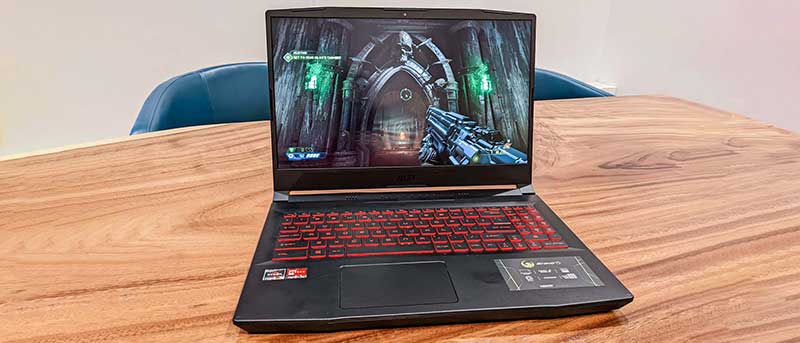 Value for Money
One of the standout features of the Bravo 15 is its competitive pricing. Despite offering a range of high-end features, it manages to keep its cost reasonable. This makes it an attractive option for gamers looking to get the most bang for their buck.
Pros and Cons
Like any product, the Bravo 15 has its pros and cons. On the positive side, it offers outstanding performance, a high refresh rate display, and a sleek design. However, some users might find its battery life relatively shorter, and the laptop itself can get warm during extended gaming sessions.
Real-world Performance
User testimonials paint a vivid picture of the Bravo 15's capabilities. It effortlessly handles demanding games and applications, delivering a smooth and immersive experience even when pushing the laptop to its limits.
Future-Readiness
Investing in a gaming laptop is an investment in the future. The Bravo 15 ensures that you're ready for what's to come, with upgradability and expandability options. This means you can keep up with software and game advancements without needing a completely new system.
Comparative Analysis
Comparing the Bravo 15 with other MSI models reveals its unique advantages. It distinguishes itself in terms of price-performance ratio, making it an attractive choice for gamers who don't want to compromise.
Conclusion
In conclusion, the MSI Bravo 15 is a force to be reckoned with in the gaming laptop arena. Its powerful components, immersive visuals, and innovative features make it a valuable asset for both casual and dedicated gamers. Whether you're seeking seamless performance, stunning graphics, or a customizable gaming experience, the Bravo 15 delivers on all fronts.
FAQs
Can I upgrade the RAM in the Bravo 15?
Yes, the Bravo 15 allows for RAM upgrades, ensuring future-proof performance.
Is the laptop suitable for content creation tasks?
Absolutely, the Bravo 15's powerful hardware makes it well-suited for content creation alongside gaming.
What is the battery life like during gaming sessions?
While gaming, the battery life might be relatively shorter due to the laptop's high-performance components.
Does the laptop support virtual reality (VR) gaming?
Yes, the Bravo 15's capable hardware can handle VR gaming with ease.
Can I connect multiple monitors to the laptop?
Yes, the laptop's HDMI output allows for connecting multiple monitors for an extended gaming setup.